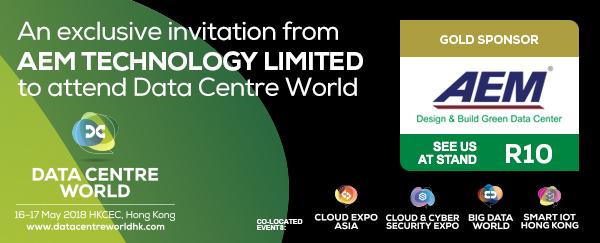 11 May

Join us at Data Centre World 2018



FIND US AT BOOTH R10
DATA CENTRE WORLD
16-17 MAY 2018, HKCEC, HONG KONG
SMART & INTELLIGENT DATA CENTRE OF THE FUTURE
AEM DESIGN & BUILD LIVE DATA CENTRE
This Live Data Centre is organized by Data Centre World and designed and built by AEM on global and premier vendors such as Vertiv, Intel, Schneider APC and Immersion Cooling from around the world presenting their innovative data centre solutions operating in the Live Data Centre (over 1000 sq. ft.).
In conjunction with our alliance partner Uptime Institute, please be our guest at Data Centres of The Future Theatre in Data Centre World and attend "Top Considerations for Addressing Data Centre Management Risks – 14 Ways That Operators Can Succeed" conference session
between 16:50 and 17:15 on 16th May 2018 (Wednesday) and "DCIM Consulting Services" conference session between 12:50 and 13:15 on 17th May 2018 (Thursday).